Commercial & Private Air Travel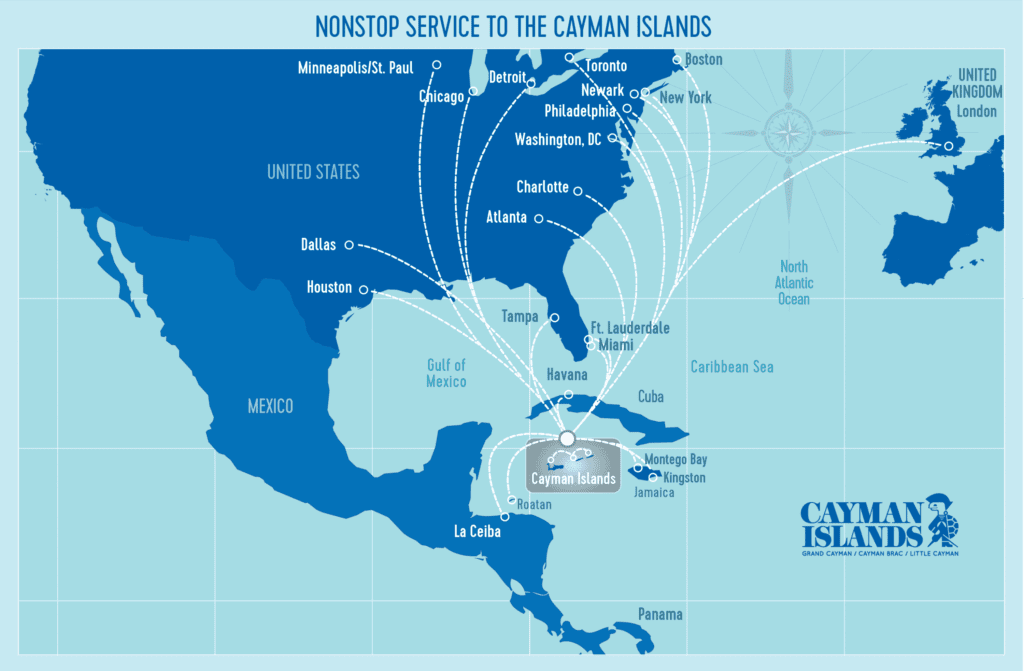 With nonstop service from London, Toronto, Chicago, Dallas, New York and throughout the East Coast, getting Grand Cayman has never been easier.
Owen Roberts International Airport (GCM)

services over a dozen airlines from major gateway cities. The airport is located in the capital, George Town, and is close to Seven Mile Beach, the heart of the islands' tourism sector.
Our private aircraft FBO is Island Air.
To book a private jet for family travel or large groups, visit our private air travel partners at

Air Planning

.

Guests staying in Cayman Kai, North Side, or the East End will definitely need to rent a car. We suggest booking a rental car early as inventory can become scarce during peak travel seasons. All major rental car companies are located across the street from the airport.
We encourage our Seven Mile Beach guests to consider a day trip to the eastern districts to discover the quieter side of Grand Cayman and explore the best snorkeling sites along the north coast.
All rental car companies offer baby and toddler car seats. You may need to request one in the "Additional Comments" field when reserving on-line. Call directly prior to arrival to confirm your reservation. Marshall's child car seats are complimentary. Most other companies charge a per day fee of approx. CI$10 ($12.25 US).
Take the stress out of travel planning with some of our favorite travel apps.
With links to the App Store & Google Play we want to make your trip planning island-easy.
Explore Cayman
This free iPhone app includes an Events Calendar (updated daily) plus information on free activities, recommended tours and attractions, watersports, diving, shopping, restaurants and spas.
You can also find details on how to rent a car, book a photographer, plan a wedding and much more. Use it and get the most out of your time in the Cayman Islands.
Trip Advisor
Bing the savvy traveler you are, odds are likely that you already have this app on your smartphone. If not, download it before your departing flight and thank us later.
With over 400 million user reviews and photos on hotels, restaurants, and area attractions, Trip Advisor is the premier online resource for avid travelers.
SkyScanner
Billed as, "The world's travel search engine," SkyScanner is a powerful free app that finds you the cheapest flights by comparing millions of flight options worldwide. The app also helps you find the cheapest deals on hotels and rental cars from over 1,200 travel partners.
With dynamic features and no hidden fees, SkyScanner makes travel planning a breeze.
XE Currency Converter
The Cayman Islands dollar (KYD or CI$) is the official currency of the Cayman Islands. Some local business will accept US dollars but give change in Cayman notes. General rule of thumb, it's always best to pay with local currency.
Whether you are exchanging Euros, British Pounds, or US/Canadian dollars this handy app will help you keep tabs on exchange rates.
PackPoint
PackPoint is an intuitive app that helps organize everything you will need during your vacation.
Just punch in the length of your trip, your destination, plus planned activities and PackPoint takes care of the rest. The app checks the weather forecast at your destination so you'll never forget to pack a jacket, raincoat, or shorts ever again!!
Mobile Passport
For US and Canadian passport holders, Mobile Passport is the quickest way to breeze through US customs.
Officially authorized by the Department of Homeland Security and used at 25 US airports, Mobile Passport streamlines the re-entry process for international travelers. Plus, app users get to bypass the regular customs lines for expedited screening.